Bergen County – Where the Giants and Jets play on Sunday!
Your Bergen Country Movers
If you are searching for Bergen County movers, look no further.  White Glove Moving has been consistently rated as one of the top moving companies in Bergen County.  Whether you need movers in Bergen County to move from one part of town to another or across the country, White Glove can provide you with a tailor-fitted move plan to ensure all of your moving needs are met.  We offer full-packing and self-packing options that will fit any budget and our movers are some of the most highly trained and skilled in the industry.
With a population of almost 1 million people, Bergen County is the most populated county in the state of New Jersey.  In addition to being the most populous county in the state, it also ranks among the entire nation's richest.  Many professionals working in Manhattan who wish to start families move to Bergen County for the larger spaces and better schools.  Bergen County is also home to MetLife stadium in East Rutherford, which is the home football stadium for the New York Giants and New York Jets of the National Football League.  Bergen County has over 70 small municipalities that make up the county, each with its own unique flair and points of interest. From Edgewater to Fort Lee and more.
Trust a Locally-Owned Bergen Country Moving Company for Your Relocation
Your precious furniture, art, collections and other sentimental household items deserve to be packed with care. White Glove Moving & Storage was founded on that principle, and it's why we continue to be one of the largest and most successful privately-owned moving companies in the state of New Jersey. Our business thrives on word-of-mouth referrals and the positive testimonials from our loyal client-base. We invite you read them, as well as more information about our company and its business model. The bottom line is that we are all about you – and ensuring your residential or commercial move proceeds smoothly, efficiently and with the least amount of stress possible. Please know that our free, in-home estimates are 100% firm. This is essential. While most moving companies will provide you with an enticing bottom-line bid to get your business, you run the risk of receiving a bill laden with extra charges for services you thought were included in the initial price. White Glove estimators are highly- experienced and they know their stuff. When we provide you with an estimate – with a detailed list of services, material and labor – you can rest assured, your final price will match the estimate – no hidden fees or extra charges. Interested in a stress-free move facilitated by a company who treats your family and your household furnishings with white gloves? Contact us to begin the work on your estimate or give us a call to learn more about our services. 1-800-340-1911.
Local and Long-Distance Moving In and From Bergen County, NJ
Our founders worked in the moving industry long before they started their own business. That's how they learned that furniture, furnishings, accessories and appliances fare much better when they're packed with the utmost care. That level of care is upheld whether you're moving to a nearby neighborhood or relocating across the country. For that reason, our local moving clients receive just as much time, care and attention as our long-distance clients. It's the only way we can guarantee your household items will arrive unscathed from Point A to Point B – no matter how many travel miles lay in between. You have a choice between choosing one or all of the following moving services. The White Glove team is here to help you wherever and whenever you need it, or we can provide full-service moving so you don't have to do a thing.
Professional packing and wrapping. You won't believe how fast a house can be packed when a professional moving team is on the case. Professional packing services can help to alleviate the stresses caused by needing something that was already packed, or having to wait until the last minute to pack the room of a child who is anxious or stressed about the move. Or, if you prefer to do some of the work yourself – leaving the more complicated or fragile items to us – you can choose from our Bronze, Silver, or Gold packing packages. Each ones is designed to accommodate your needs, timeline and/or budget. Once the truck has safely arrived at your new home, we are available to help unpack your items and get you settled into your new household. Our estimator will be happy to assess your home or business, as well as your moving goals, to determine which package makes the most sense for you.
Packing materials delivered to your door. There is a vast difference between packing your home using salvaged newspaper and flimsy, re-used boxes from a grocery store, and the protection provided when items are packed with  professional packing supplies – including adequate wrapping paper, bubble wrap and tape. If you like, our team will determine exactly how much – and which types – of packing materials you need. In addition to standard boxes with our professional logo and space for labeling, we also have custom boxes for your wardrobe, computer and electronic equipment, flat screen TVs, breakables and so on. In the rare chance that you run out, simply give us a call and one of our on-call staff will deliver what you need right to your doorstep.
Fine furniture, art and antiques. Even if you feel comfortable packing up your own home, you may find that it's best to leave the fine furniture, valuable art and antiques and/or priceless heirloom pieces to the professionals. We're experienced at perfectly wrapping, padding and securely packing even the most precious possessions. At times, we may determine that custom-built crates or boxes are the safest way to go and we can also assist you with shipping, delivery and/or receiving when necessary.
Need a service you don't see listed here? Odds are we provide it. We're in the business of problem solving and orchestrating a fluid moving process. Contact the White Glove Moving Team and we'll be happy to assist you. 1-800-340-1911.
White Glove Moving & Storage Offers All the Extras
In addition to standard local and long distance moving services, White Glove Moving offers a range of customized moving services for special situations. Military moves. Military moves are rarely as straightforward as a typical residential move. Perhaps different members of the household are relocating at different times, or you may need to store your possessions for a short- or extended period of time depending on the situation. Whatever your needs, we are proud to serve the men, women, and families who give up so much in order to protect our freedom and values. Contact usto learn more about our military moving services. Commercial and corporate relocations. Commercial moves can be complicated, but we find them fun. It's all about the logistics – and we're strategizing pros. White Glove Moving & Storage has facilitated efficient relocations for New Jersey companies both small and large. Our commercial moving estimator will set up an appointment at your convenience to tour your facility or office(s) to discuss your timeline, goals and areas of concerns. Together, we'll plan – and execute – a swift and organized move that minimizes or eliminates the need for company downtime. Short- and long-term storage. Often, our clients require storage of their entire household – or a portion of the household – for varying periods of time. We are happy to make arrangements at one of our own safe and secure storage units, or we can take care of moving your items into a reputable storage facility at your location of choice. Green moving for the 21st century. We do what we can to minimize the impact moving has on our planet's resources. These green moving practices include things like hybrid cars for our team of estimators and a no-idling policy for all of our moving trucks. Our fleet of trucks is modern and well-maintained, which improves fuel efficiency. Together, those simple changes save thousands of gallons of fuel each year. We also use packing supplies made from recycled content and reuse sturdy crates for our commercial clients, which cuts down on the amount of supplies we consume. We prioritize eco-friendly business practices wherever we can. Customer rewards program. If you refer friends, family or colleagues to White Glove, we'll show our appreciation for your loyalty by sending you an AmEx gift card as soon as their move is complete. Our customer rewards program is a simple way we can say "thank you" for choosing us and spreading the good news. Are you ready to work with a Fort Lee moving company who treats you and your family with White Gloves? Contact White Glove Moving & Storage and we'll show you how easy moving can be. Please request an estimate or give us a call at 1-800-340-1911.  One of our friendly, knowledgeable, and professional sales staff members would be happy to speak with you to further explain just why we should be your Bergen County movers.  We offer free in-home estimates that will leave you with an accurate quote for your move.
What Our NJ Customers Are Saying
Our goal is to always provide top-quality service at fair prices that make your moving process as stress-free as possible. Check out what some of our amazing clients said about their experience.
View More Reviews
Take the stress out of moving with our
NJ Moving Tips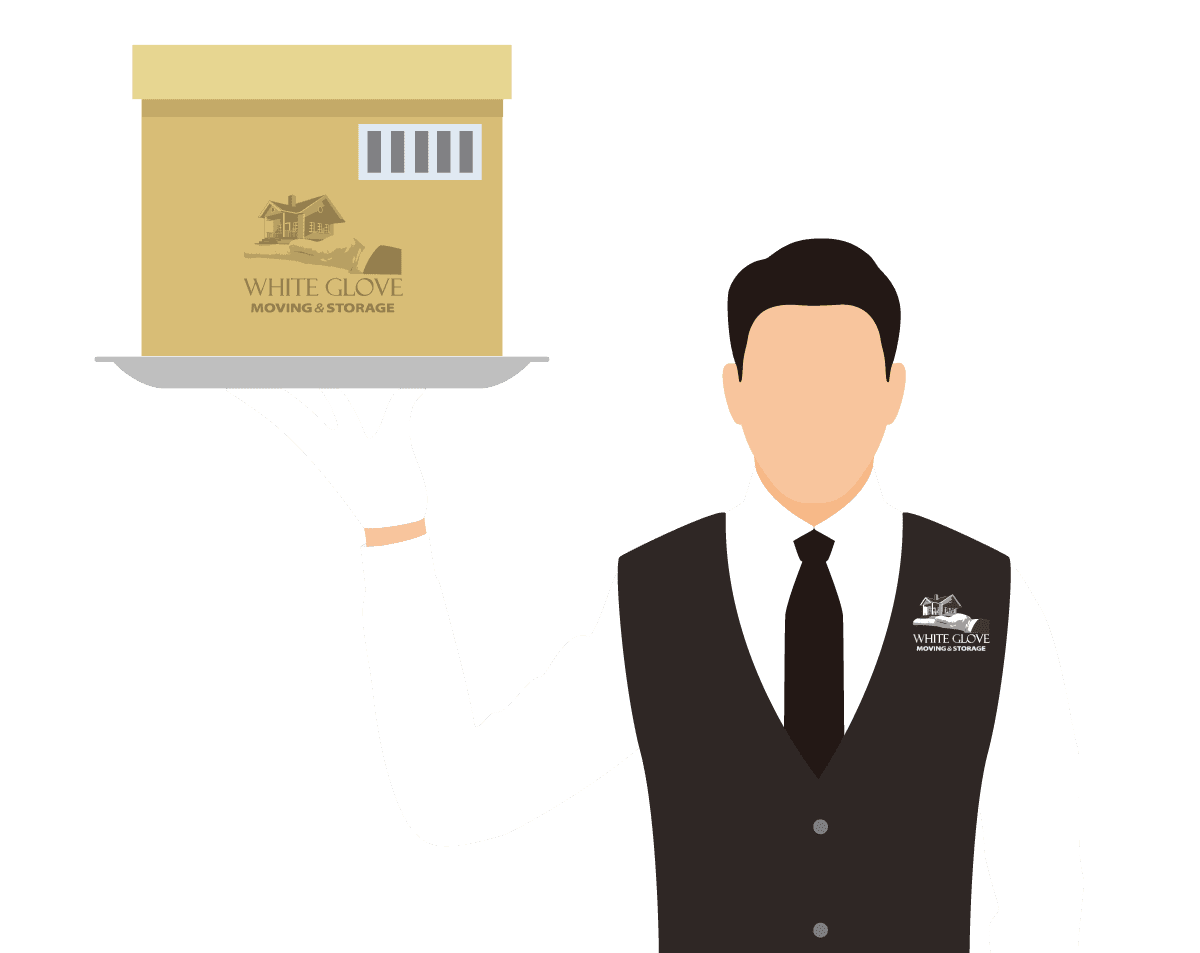 Make your NJ move worry-free
Serving 12 NJ Regions
We have been helping families and business owners move into and out of locations all over New Jersey since 1988. We know these neighborhoods like we know how to stack moving boxes.
Get your free moving estimate
Request a quote
Call 1-877-825-1596