White Glove Treatment
Local Moving Services
People think of local moves as easy; it's only a handful or two miles down the road, and there's plenty of time to make another trip if you can't get everything in the truck the first time… In fact, this way of thinking will make your local move much more complicated than it should be. White Glove Moving & Storage has provided local moving services in New York and New Jersey for almost thirty years. Our experience, expertise, and dedication to customer satisfaction have allowed us to grow into one of the largest family-owned moving companies in the northeastern United States. We take great pride in the fact that we handle our clients' local moves with the same level of respect and attention as we do our long-distance moves. This is the only way to ensure our clients' belongings — and treasured heirlooms and collectibles — arrive safely from Point A to Point B. Contact the White Glove team to schedule your free, in-home consultation. Our local movers provide you with firm quotes, setting us apart from your typical moving company. Feel free to contact us directly to discover more about our local moving services. (855) 428-2094.
Stress-Free
Local Moving Requires Strategic Planning & Careful Packing
Often, DIY movers make the mistake of thinking that a local move means they don't have to spend as much time carefully packing and loading the items. They're only going a few miles, right? In fact, that breakable lamp or those two, hardwood furniture pieces are just as likely to become scratched or damaged during 15 miles of bumping, knocking, or vibrating as they are traveling 500 miles. That's why our New York and New Jersey movers have been trained to treat every move as if it's a long-distance move. This makes all the difference when it comes to the status of your items when they're unloaded in your new home or office. White Glove Moving & Storage offers a range of local moving services to minimize the amount of time you spend worrying, planning, or organizing.
Packing supplies
Do you prefer to do the bulk of that packing yourself? White Glove local movers do their part by making sure you have all of the professional packing materials you need — and we deliver them right to your door (no last-minute, late-night runs to grocery store dumpsters on the hunt for extra boxes). In addition to high-quality boxes and packing materials, we also provide specialty boxes for flat-screen TVs, wardrobes, china and stemware, audio and computer equipment, and more, along with enough tape to seal it all up.
Moving antiques, collectibles and fine art
Some furnishings require more TLC than others, and that is certainly the case for antiques, collectibles, and fine art. When you schedule your in-home consultation and survey, we'll create an inventory of the items that need extra special attention and make sure they get it when it's time to protect, pack, and load them.
Packing services
Some of our clients prefer that we pack the fragile and priceless items so they can do the rest. Others prefer us to do all of the work so all they have to do is hop in their car and drive to their new home on moving day. We are happy to comply with any level of packing services that appeal to your wishes and budget. White Glove Moving offers different packing and pricing tiers so choose the one that makes the most sense for your move.
Professional storage
Moving somewhere smaller? Want to try downsizing for a little while before officially donating or selling your extra furnishings? White Glove Moving & Storage offers secure, professional storage services for our local moving customers. We offer both short and long-term storage options, and we'll pick up your items and deliver them to the new home — or elsewhere — whenever you're ready for them.
Loading and unloading
Have your own truck but need a little assistance loading and unloading? We can help you out there too. You'll be amazed at how much faster — and more efficient — the loading and unloading process is when a team of professional New York movers is on your side.
Corporate moving services
Moving your office, warehouse or storefront can feel overwhelming. For White Glove Moving & Storage, it's what we do. The transition from one business location to another requires layers of logistics and we've moved every type of business known to mankind. Our estimators will take an inventory of what you have and discuss your preferred moving timeline — and then we'll make it happen as streamlined and seamlessly as possible. Our goal is to minimize company downtime and facilitate as much of the new business set-up as possible, so your employees can get right back to work in their new environment. Our local movers are experts at breaking down and setting up computer stations and copy centers and are thorough in how we organize, pack, and label the boxes and crates so everyone's workstations remain intact and easy to unpack.
Contact White Glove Moving & Storage
for a Local Moving Quote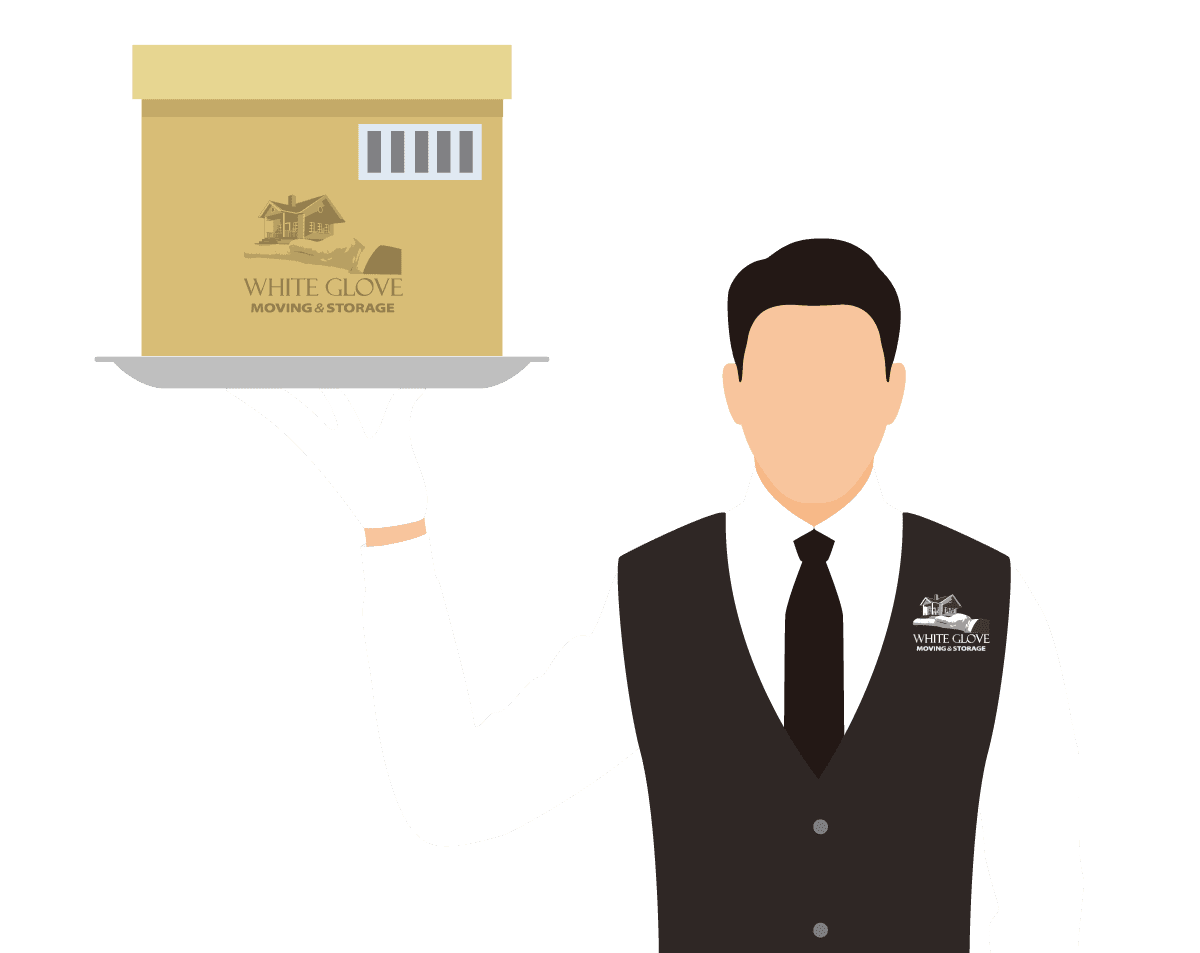 When you trust your local move in NYC to us, we guarantee you won't be disappointed with the results. We invite you to read our customer testimonials or our online reviews. Customer satisfaction and stress-free moving services are our top priorities. Contact our team today and get your firm, local moving quote. 1-800-340-1911.
Contact Us
Customer-centric services
Our Locations & Specialties:
Get your free moving estimate
Request a quote
Call 1-800-340-1911
"*" indicates required fields