Get your free moving estimate
Request a Quote
Customer-centric services
Our Locations & Specialties:
Much more than a moving company
Around The Corner Or Across The Nation With White Glove Moving
We are a licensed moving company in NJ to perform local moves both in New York and New Jersey as well as relocate customers to any location in the continental United States. White Glove is also happy to offer a flat price on your long distance move. Our prices are based on your inventory rather than charging based on factors like weight or cubic feet. This helps eliminate variable on the move day and gives our consumers complete control over your price and removes all surprises.
Our moving process
The White Glove Moving Treatment
First Phone Call
The first phone call is where we can answer questions and setup free estimate
Visual Estimate
our qualified professional will perform a walkthrough with you to ensure an accurate quote
Dedicated client services rep
Our dedicated client services rep is here to answer any/all questions through move. They assist with packing questions, ETA's and anything else you may need between scheduling and delivery.
Professional Move Crew
Professional move crews to assist and make sure move day goes smoothly
Customer-centric services
Our White Glove Moving Services
What others are saying
The movers were wonderful!! I was anxious moving from NJ to TN. I never moved so far before. Everything I moved arrived safe and sound. I highly recommend White Glove. Frank was so helpful and made the move as stress free as possible. Thanks so much!

Our move this past weekend was seamless. Jose and his crew were tremendous! Courteous, professional, patient and efficient. They were also resourceful getting their large truck into our steep and narrow driveway to our new home. I highly recommend white glove. Truly a great experience and service from start to finish!

Amelia Wolfe
20:49 30 Aug 21

James Gonzalez
18:35 27 Aug 21
Moving is so stressful and you hear so many stories about nightmare moving companies! I can't say enough about how pleased I am with White Glove. From the first phone call to the last bed being set up in my new home, they were professional, courteous, on time, and most importantly, they treated my belongings like they were their own. I moved to a different state so we had a long-distance component and I felt like they were with me every step of the way. I was very stressed; we have a LOT of belongings and furniture. Martin came with his crew and immediately made me feel calmer and confident. He is a definite asset to the company. He directed the crew very professionally while reassuring me the whole time. I wouldn't hesitate to recommend them or use them again.

Helen Quinn
23:26 22 Aug 21
Amazing experience! Moved all the way to Miami from Jersey City. Super polite and professional staff, timely delivery, hassle free for us as well… highly recommend for anyone on the fence about which movers to choose!

Joshua Springer
20:57 22 Aug 21
I can't say enough great things about White Glove. I've had some terrible experiences with movers in the past so didn't have high hopes when looking for a mover this time around. We were connected with Tommy and he couldn't have been nicer or more helpful. He really tried to work with us to get us the best price. White Glove was slightly more expensive than other quotes but you really do get what you pay for. The price you are quoted is the price you pay- no added charges and fees in the end. The group of men that did our move were great. Super fast but also packed our stuff so carefully. Highly recommend them and will definitely use them again.

Jennifer Davey
00:10 17 Aug 21
Excellent experience moving. Ronaldo's crew is highly recommended. We will be using him and his crew again on our next move. The office staff is professional and friendly particularly Darwin who answered all my questions.

Judy Zislin
19:58 28 Jul 21
Great company, would recommend to anyone.

Bruce Ashley
16:25 26 Jul 21
Rolando and his crew did an amazing job in the 90 degree heat of July. They were on time, amazingly efficient and made my once in 45 years move a seemingly stressless experience. Rolando was courteous and knowledgeable directing his crew once they arrived and had both their performance and my concerns totally under control. I would recommend anyone who is looking for a 1st class mover to join the club of extremely satisfied customers.

Michele Kane
18:06 21 Jul 21
Thank you to my crew! Caesar and team (Sam, Rasheed and Jabari - I'm not sure if I'm spelling names right) were wonderful! Moved quickly, very professional, polite and kind! I am VERY happy with my move.

Erin Aaron
14:21 13 Jul 21
I contacted White Glove for our move and was nothing but impressed from the start. Benjamin answered when I called and was so polite and informative. A representative was sent to our apartment within days of the original phone call to discuss our expectations and form a quote. The price was very reasonable. I was sent an organized email of details to explain the price point. A week before our move, I received an email and phone call to confirm the date/time and answer any further questions I had. The day of the move, I received a phone call 20 minutes prior to 8am confirming they would be at our apartment. They were exactly on time. The 4 gentleman showed up with smiles and got right to work. They functioned so well as a team and were incredibly efficient. They were careful with our belongings and went out of their way to ensure we were satisfied. They took so much stress out of our moving day. Everyone involved in this process not only did their job, but did their job so well. You can really feel how this company wants their customers to be 100% satisfied. I would highly recommend them!

Shannon Wright
14:17 13 Jul 21
Stone and his crew at White Glove were very professional. They were on time, respectful, and did a great job in prepping for and executing the move, all the while understanding how stressful a move can be. I would highly recommend White Glove, and Stone in particular.

Kevin Vedder
13:47 10 Jul 21
An overall great experience that made my move so nice and easy. The workers were so helpful and efficient. I have already recommended White Glove to others. Would definitely use them again.

Katie Termine
23:18 28 Jun 21
I made the mistake of looking for a bargain price for my last 2 moves because I didn't fully understand how expensive moving could be. Both of those experiences were disasters with far more damage being done to my belongings than the amount saved over the more expensive companies. For this move in June of 2021, I searched online for "best moving companies in NJ" and read through the reviews of a handful of companies. White Glove Moving had the most consistently positive reviews of any of the companies I came across. Gary came to my place to take inventory and gave me great tips for my moving process. We made our move with White Glove yesterday and I couldn't be happier with my decision. We had Alfredo and his team and I would honestly give them 10 stars if I could. They were extremely careful with all of our belongings, put out protective materials in the new house and gave us pointers on where we should put certain pieces of furniture. At no point were they ever rushing. Every second of the job was done with precision and care. If you are reading my review and looking for a moving company, let me start by saying that moving may be more expensive than you thought it would be, but you get what you pay for and I would easily pay the same or more to use White Glove again. Peace of mind is valuable. I couldn't possibly recommend White Glove any more. I hope to not move for a very long time but if I were to move, White Glove moving is a no brainer decision.

James Hakim
18:29 19 Jun 21
White Glove moved the contents of my 3,000 sq. ft. home. It was a lot of stuff! They carefully wrapped my furnishings and loaded all my packed boxes to move to my new home 35 miles away. Everything arrived in fine condition. Nothing was damaged and all my furniture was placed as I requested. The team worked very fast. The head of the crew, Sabastian, was personable and professional. I was very pleased with their work and would highly recommend them,

I have moved many times and I have to say this was by far the least stressful of all moves! The guys were great and knew exactly what to do and everything arrived in perfect shape. Highly recommended


Lynn DiGiacomo
03:22 16 Jun 21
Ivan and his team were phenomenal! They arrived on time, work fast and efficiently, they communicated every step of the way, and were friendly and courteous. I would recommend them for any move!

Brent Salamone
10:45 15 Jun 21

Mitch Lunceford
02:20 06 Jun 21
I have enjoyed their service so far. People who came to pick up my stuff to my new jersey small apartment was really good. They pack everything very nicely keeping in my that they dont damage anything. Only thing that for long distance you need to ask them what exact time they deliver. Though for long distance it's very hard to predict that but you get approximate time window you can plan better.

SHYAMAL SHAH
21:59 05 Jun 21
I just completed a local move in Bayonne with White Glove and I felt compelled to express my satisfaction and gratitude. Tyrone T Money and his crew were amazing from start to finish. Professional, courteous, organized, and upfront with all issues that came up. I was very stressed about my move and all I can say is that I'm so happy I chose White Glove Moving as it went super smooth from start to finish! Thanks T Money and crew for all your hard work!! 😀


Roreyann Riegel
23:57 02 Jun 21
I am so glad I chose White Glove for my move! Their estimate was so detailed I knew there would be no unexpected charges at the end. And there weren't. The estimate was spot-on. Rolando and his crew were fantastic! This was a big move, with very heavy furniture and many, many boxes. Yet this crew was, throughout two long days, invariably hard-working, efficient, cheerful and so very accommodating. Rolando was a masterful organizer. In choosing this company, I couldn't have done better—and neither will you..

Joyce Fitzmaurice
12:07 29 May 21

Ken Panassidi
01:51 27 May 21
White Glove Moving were very professional, accurate estimation of costs and all contents arrived safe & sound.

Joseph Persico
15:57 25 May 21

george muchita
23:43 24 May 21
My experience with White Glove in May 2021 was excellent. They arrived on time, were extremely courteous and polite, and took extra care to ensure that my belongings were properly wrapped/prepped for moving. Everything arrived at my new home in perfect condition. They were also very transparent about pricing before I booked with them. I would absolutely recommend them if you are planning to move.

Alexis Narducci
17:09 19 May 21
We used White Glove based on a recommendation from a friend and we couldn't be happier! They were very knowledgeable about the move and what it entailed, and Viktor was great with our estimate. On the day of our move, Rolando and his crew were top-notch! He walked through everything with us, dealt with all of our items with the utmost of care, and got us moved to our new home quicker than expected. I cannot say enough about how good White Glove is. If you're moving, call them up!!!

todd craig
15:18 19 May 21

Josh Abascal
21:29 15 May 21
Great. Very caring of personal items being moved. Polite and respectful. A friend of mine recommended White Glove to us because he had such a great experience. My son used them and the same great service. My "team" of Addai, Oscar, Martin and Ricardo were fabulous.

John Kelly
23:10 10 May 21
We had a great experience with White Glove moving. They were very quick and professional. We had a multi-stop move and I was working on the day of the move, but they contacted me frequently to update me on the progress and when they would reach each destination (where I had other authorized family members present who confirmed their timeliness and professionalism). When I did meet them towards the end of the move they were eager to find more ways to help, including putting furniture back together and making sure everything was in the correct room of our new house. They were so eager to help I had trouble telling them not to worry about putting said furniture together because I knew that the necessary parts are simply in some unknown box (much of our furniture had been in storage for years). Would definitely recommend them and use them again.

I had White Glove move my belongings from a storage container to my new home. No problems the entire time. They were on time, finished ahead of schedule, and everything got moved safely, including an upright piano. I spent a lot of time worrying about having a good moving company, and they delivered. This included them using their own trucks with uniformed movers. Customer service was also very quick to get to - no long, half-hour wait times on the phone, and any problems were quickly resolved. Highly recommended.

Thomas Kresge
15:16 06 May 21
White Glove Movers was the best decision I made. They were very respectful and professional for such a young group of gentlemen. I highly recommend them if you choose to have movers help you. They are top notch. Thanks guys.

TerryLynn Boone
15:44 29 Apr 21
White Glove moved us from NJ to DE. They were on-time, professional and careful with our items. I would highly recommend them.

Paul deLaski
15:01 28 Apr 21
White Glove Moving made a stressful day much less so. They arrived on time and got right to work. We couldn't believe the care they took moving our belongings. The work was done quickly and expertly. Upon arrival at our new home, the six movers communicated with us to be sure that all of the items were placed where we wanted them, They reassembled all of the furniture and were happy to move things around if we were unsure of where we really wanted them. When they were done, they walked through the house with us to make sure we were happy. We were! We received a follow up call the next day to make sure all the work was done up to our standards. We recommend White Glove Moving and Storage for any move you are planning. They provide excellent service at an excellent price!

Betsy Depuy
03:10 23 Apr 21
White Glove was great in getting us moved and settled from NYC to NJ. This is our second time using them, they have the best prices, professional and timely movers and very responsive. They really go above and beyond to make sure you are satisfied with your move. Would use again, and definitely recommend!

Jasmine R Ramirez
01:01 14 Apr 21
White Glove moved us in March 2021 from NJ to Texas. They were responsive and kept us up-to-date 100% of the time from beginning to end. There was some minor box packing they did for us such as mirrors and some art work. We packed the rest. That being said, White Glove took great care in wrapping our furniture, vacuum cleaner, etc. that they looked cocooned. White Glove also re-taped the boxes I sealed so they were "really sealed". Everything arrived and in good order. The moving men were total professionals, polite, and respectful. I would hire them again without hesitation.

Very professional team and great service on the day of the move, thanks!

Jeff Massey
15:15 01 Apr 21

Tammy Feola
09:20 01 Apr 21
Great moving company, very professional and quick. We used them last fall when moving from Summit NJ to Westchester NY. The provided us more than needed packing supplies (various sizes of boxes and tapes) for packing. On the moving day, they came as scheduled and even helped me with the last-minute packing, very quick and professional. Sorry for providing feedback so late but strongly recommended!

White Gloves distinguished themselves immediately when they first came to estimate the move. Their service included 75 boxes to use, and White Gloves associates were always a ready to answer questions! The moving crew showed up at our new house when scheduled, and did a fantastic job unpacking everything and placing them when requested! Couldn't ask for more from a moving company!

Mike Cullens
19:55 30 Mar 21
White Glove Moving & Storage was amazing to my family during our relocation. They were responsive and cooperative throughout every step of our move. The in-person initial quote was reassuring because I knew there wouldn't be any surprises at the end. The price was reasonable, and I even received a free box and packaging tape delivery on a Sunday after a storm! In addition, the scheduling team was able to accommodate my move after my closing/move-in date changed three times! Everyone at White Glove was kind and courteous. The movers were punctual, diligent, and careful with our belongings, and I didn't even have to pack my closets! The movers did that for me. They made sure all of my clothes were delivered to the appropriate rooms, and all of my furniture, including the queen beds, bunk-beds, and pool table, were reassembled properly before they left. I would recommend White Glove Moving & Storage to anyone looking to relocate! They made a situation, that is typically very stressful, a very pleasant one for my family.

Jeanette Owens
15:09 26 Mar 21
In the wake of my Dad's death, I had to move some furniture (including a piano), a whole bunch of fine crystal, and other items from NY to two locations in VA. White Glove movers was professional, easy to work with, and incredibly reasonable priced. Everything from scheduling the estimate to the unloading of the last box was hassle-free and went off without any issues. They moved a serious amount of crystal and due to their careful wrapping and packaging not one piece was broken. The three men who unloaded the truck were awesome — no nonsense, well-trained professionals. While I hope not to have to move again for some time, I highly recommend White Glove movers!

Colleen Gilbert
16:44 25 Mar 21
This is now the second time I have used white glove moving and storage! they are beyond the best. They wrapped up all the furniture for us and made the move go even smoother than I ever expected! They even helped us put many boxes in the attic! I have nothing but nice things to say about them and will recommend them to anyone who is moving!

Maggie Segotta
23:33 22 Mar 21
Thanks again for being professional

hanie tadros
16:14 19 Mar 21
They do the right thing chose them!

Erick Lopez
16:13 19 Mar 21
We were moving from a house after > 15 years (5 people 4 bed rooms) so needless to say we had a lot of stuff! White Glove Moving made it look easy. They were prompt and organized which made for an efficient project. It was entertaining to watch. From the beginning the sales/project teams were focused on ensuring we had a great experience. They checked in with us often to make sure we were ready and to review any changes. On the day of the move it was even better. These guess were no nonsense and still flexible and accommodating. Awesome experience

jamil manigault
12:54 19 Mar 21
Moving is a horrible ordeal but these guys helped so much. TY

John Gallagher
18:26 16 Mar 21
Vladimir and his team were professional, responsive, and careful not to damage anything. I'm very happy I decided to use White Glove and have already told several other people about them. The communication and help I received from the people at corporate was also phenomenal. If I ever have to move again I'll be calling these guys. Thanks again for all the help!


David Delburn
20:02 12 Mar 21
Wow, These guys are awesome. We are repeat customers. We moved to Lawrence three weeks ago. Totally professional and respectful. We had a lot of heavy items being moved from a basement and not an utter of complaint. They packed up my kitchen dishes beautifully. Not one item broken or lost in the move. Highly recommend White Glove.

Cathy Gavin
19:47 06 Mar 21
This service was wonderful. Furniture was exceptionally well packed and later unwrapped and set up. The movers were efficient, patient, respectful, and very professional. They moved our piano, dining room set ( including large breakfront), and various other furniture. We are very pleased with everything including the timely matter in which they delivered our furniture. We highly recommend White Glove!

Carol Seras
17:45 04 Mar 21
White Glove was absolutely fantastic! My husband and I had a wonderful experience with White Glove. We were very impressed by how fast, clean, and neat they were. The were on top of their game from start to finish and very attentive to our needs. I would 100% recommend them to any body and absolutely hire them again!!

Lea Sparacino
16:29 04 Mar 21
GREAT Experience, Well prepared, Well executed Feb 2021 I plan to use again

Carol Smith
19:14 01 Mar 21

Very happy with the overall service. All Team members were courteous and responsive from the start. All the items were handled with care and delivered to Florida safely and on time as promised. Thanks to all for a job well done!

Miriam Martelo
14:56 24 Feb 21
Moving house is not easy. Especially when you are moving with a family of small kids. And more especially, during Winter. In New Jersey. Right after a winter storm. During Covid-19. Along comes White Glove, and made it all seem so easy. Stone and his crew came in right on time, early in the morning, did a walkthrough of my home, and got to work. Two trucks packed with all my household items, furniture neatly disassembled and blanketed, and all fragile items like glass curios and my 75 gallon glass fish tank, neatly wrapped. All items were moved to my new home and assembled at the place I wanted them to be. They even swapped my refrigerator, washer and dryer between my houses, per instructions and made it seem so effortless. All in the same day. At the end of the day, we were asked to review and inspect all items. I also received a call from the office at the end of the move, asking if I was satisfied and I had any concerns. I thought it was all very courteous and professional. A big thank you to Stone and his crew. I would recommend them anytime! Good job!

White Glove Moving representatives were very professional and communitive throughout the entire process, from the estimate through to the follow -up call upon completion of the move. I had seriously looked into renting a truck, hiring packers and doing the move myself. After adding up all the associated costs there was not a significant costs difference and with the level of services provided I am quite satisfied I went with White Glove.

David Vosseller
19:37 18 Feb 21
White Glove was recommended to us by our realtor.  From the moment we called to inquire as to whether they could help us with our move to the day we moved in, we received superior service!  Ralph, the gentleman who did the estimate, was lovely and took a careful inventory of our items to be moved.  Mike followed up to ensure we were happy with the estimate and to schedule our formal moving date.  And, the day of, the team, led by Eduardo, were efficient, professional, and very respectful of and careful with our possessions.  We could not be happier with our choice and would highly recommend using White Glove to anyone looking for moving professionals!

Susan Burman
19:15 17 Feb 21
This is by far the best moving company we have ever experienced. Rolando and his team were polite, friendly, expert at what they do, and just nice people. We moved out-of-state and they managed to move two trucks of our belongings in a snowstorm and during a pandemic. Amazing! We would highly recommend White Glove Moving.

Joan Myers
16:51 16 Feb 21

Joseph Vieira
16:41 16 Feb 21
My wife recommended me to you guys for the moving. From the first minute I spoke to Mike and Lukas all the way to my items being delivered and safely installed to my new house, I never experienced any stress at all.Your customer service is excellent. I always receive calls making sure that everything went smoothly. Your representative is a very understanding person and even offered me other alternatives of payment which went through successfully.On the day of the moving, your movers came on time. Even though the fridge was the issue that gave them a hard time, they were able to safely pull it out and move it out of my house without trouble.All my furniture was safely wrapped and that shows the care that you guys have towards us customers. I even had the opportunity to sit down, enjoy my last breakfast before moving thanks to you.I highly recommend this company to people looking for movers. There is a possibility of an out-of-state move in a few years and I know for sure who to look for.The price is really worth it for all this work and I don't even have to worry about how long it will take to get the work done

Falilou Ndiaye
21:19 15 Feb 21
I found White Glove while reading reviews for other moving companies I had gotten estimates from and I am so glad I did. Their price was reasonable, their service was excellent, they did exactly what they said they would do. They moved me from Long Island to Delaware and were so cooperative in keeping my stuff on the truck for the couple of days it took between closings. The crew was prompt, respectful of both my previous and new home, putting coverings down on the floor and being careful not to damage anything. They packed my things very well, I still have a couple of boxes to unpack but so far everything is just fine. Oh, and they gave me binding estimate and stuck to it!! I can recommend them without any hesitation; my brother is moving soon and I told him to use White Glove and not to bother calling anyone else. I would give them ten stars if that was an option.

Karen Dillon
21:15 15 Feb 21

Misgna Habte
05:26 15 Feb 21
Was going from NJ to NC in the winter- the guys came and packed everything perfectly- gave me plenty of notice when they would be arriving along with updates each day. would definitely use again- whether long distance or within the state.

stephanie lombardi
18:29 11 Feb 21
They moved swiftly, were friendly and accommodating. As careful as they were with the fragile belongings, I wish they could have taken a bit more careful thought to packing items that belonged to each other. Either than that, no broken or damages and took special care of safeguarding the walls and floors.Thank You White Glove for your time and assistance.

Ralph Viola
15:11 11 Feb 21

Luis humberto Ramírez Pérez
14:39 10 Feb 21

Faustino M Valencia
23:18 09 Feb 21
The workers at White Glove were professional, courteous and efficient. They utilized the highest level of COVID safety protocols during our across town move and even came to the rescue to move us during a snow storm! They were flexible to our needs and we would definitely recommend them to others.

Megan Grandinetti
18:38 08 Feb 21
Very professional and especially careful with our shipment.

George Post
18:04 04 Feb 21

Viral Patel
18:13 03 Feb 21
White Glove moving was amazing! The guys took the time to place little PCs of cardboard on each of my risers up the stairs so their shoes wouldn't mark up the fresh white paint on the risers. Very professional, friendly, and accommodating, can't say enough great things about this company! Best moving experience ever!

Kimberly Magarro
20:09 02 Feb 21
I am so happy that I chose White Glove Moving and Storage! They went above and beyond to make me feel secure about my choice! From the very first phone call I felt I was treated like family! On moving day I was delighted by how professional, efficient and sweet the guys were throughout the process! Again, above and beyond ! I highly recommend having them pack as well as move the contents of your home. This eliminated the stress for me. Moving can be emotional, you don't need the added work of packing! Let the Pro's take care of it!

Kim Belton
01:08 29 Jan 21
Rolando and his team were the absolute best. Him and his team were able to complete our move (a full 3 bedroom home!) in about half the time; extremely efficient and careful with all our belongings. What my wife and I were expecting to be the most stressful part of moving, became the least thanks to Rolando & the White Glove team. We didn't even know what to do with the rest of our day and got to enjoy 1 last drink & meal in town before our move to another state. Great service from White Glove, always available for questions and calls throughout the process. Rolando & team were even able to get 2 trucks to our destination before we arrived and were waiting for us! Highly recommended, nothing broken out of all our belongings!

Timothy Kangos
17:11 24 Jan 21
That Omar Mohamed is a one of a kind. The strongest I've seen in a long time... this man carries the heaviest of furniture on his back with no effort... I've never been so satisfied with the service and punctuality until I met this man... my husband couldn't stop raving about him...so I had to come on here and leave this review because he deserves all kinds of raises... He even called me in advanced a few days before then a day, then a few hrs... what more can we ask for... so top notch.... A++++ service

Suhalah Mohamed
04:37 23 Jan 21
I had a great experience using White Glove. They were super professional and were able to get me moved in and set up extremely fast! I would definitely use them again.

Christopher Murray
20:46 21 Jan 21
Excellent moving experience! One of the very few things that went right with the sale and purchase of our homes! First, Darwin was amazing - we had several issues with our closings and had to change things almost last minute. Darwin got it done and we were very thankful. Sebastian and his crew came as scheduled on a Thursday to load our belongings onto two moving trucks. Every bit of space was utilized perfectly. They made sure the boxes we packed were wrapped well and then handled our furniture, TVs, mirrors, chandeliers, etc. with perfect precision. They arrived at our new home as scheduled on Friday at 3pm with the same crew and were out the door by 8pm, putting together several rooms of furniture and unloading about 200 boxes in the right rooms! The entire crew was wonderful - friendly, timely, respectful, and efficient. We highly recommend White Glove Moving & Storage.

Sherry Smith
19:31 20 Jan 21

Manuel Juarez
04:54 06 Jan 21
White Glove Moving & Storage made my out-of-state move very easy. Any time I called with a question I was able to speak with a knowledgeable representative who answered all of my questions, or the owner of the business himself. The move process itself was also made very easy. All workers were wearing appropriate facial masks and packed all of my possessions in an efficient and timely manner. I was given updates as my possessions made their way to their final destination and received all of my items without any issue or damage. 5/5 stars. Highly recommend.

Brian Kelly
18:31 05 Jan 21
My closing was so stressful! White Glove Movers made my move peaceful and every person on the truck was so nice! They did a fantastic job!!

Christine McBride
16:16 31 Dec 20

Broc Libra
00:04 31 Dec 20
Highly recommend White Glove Moving & Storage. Moved from one NJ location to another with the need for storage until new home was built. Also sent some furniture to Florida. The great service started with the estimate. Very professional and accurate. The mover crew did an outstanding job moving us out and in to our new location. Very careful and neat. No issues what so ever throughout the entire process. Finally, communication was very good and timely. Would definitely use them again and recommend to others.

Alex Archimedes
23:36 21 Dec 20
This is the second time I've moved with White Glove. They packed and my items were in storage for a year! When move in day came, the same foreman that packed our large duplex apartment was there to move us into the bee one. He was amazing and remembered much of furniture from a year before—where it was in the old place—making it so much easier to place items in the new place. That level of organization was great by both White Glove and the talented foreman. The crew was efficient and wonderful as well. It was as good as moving (always traumatic) gets!

Roslyn Ross
18:31 21 Dec 20
My family had a very positive experience with White Glove moving. The entire team was great. They sent Lucas out to our home to evaluate our needs and provide an estimate. They had the estimate to us same day and were very responsive to questions. Everyone was respectful of following Covid measures, especially since we had a 6 month old in the house at the time of the move. In true 2020 fashion it snowed the day we moved but the crew were great and got it done. Stone, the Forman went above and beyond. Highly recommend White Glove!!

Erica Mellow
12:28 21 Dec 20
Terrible! Guy tried to say we signed a contract over the phone, showed up at my house when I told him not to then tried to charge me 500$ and called the cops when I refused to pay. I am sorry I have this company a poor review. They are not the same white glove I tried to use. Thats my fault. The guys I called were definitely imposters.

Joel Casler
18:41 18 Dec 20
Addai, Esteban, Marco and Stanley are the best!

Gary Angiuli
18:09 18 Dec 20
White Glove Moving is a top notch operation. Super nice and helpful, easy to work with and great with follow up. Movers were professional, efficient and took care with our items. Would highly recommend them for anyone needing moving services

Ailee & Eric Mackaluso
00:22 18 Dec 20
Sebastian and his crew did a fabulous job. Wrapping of the furniture and packing the kitchen and my China! They were very careful and very respectful of our belongs. I would highly recommend your company

JoAnn Falcone
21:26 08 Dec 20
Take the stress out of moving with our
Moving Tips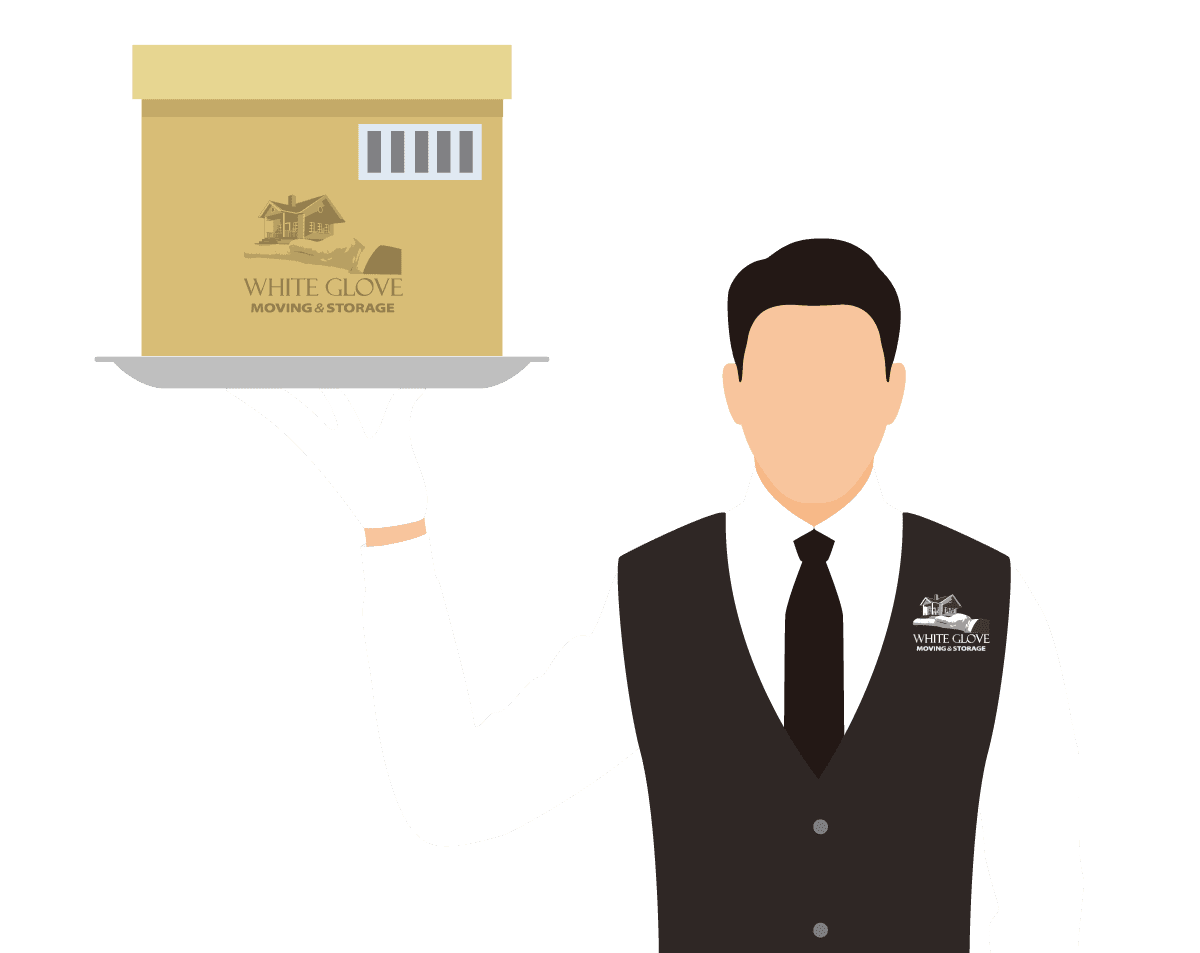 Get your free moving estimate
Request a quote
Call 1-877-825-1596