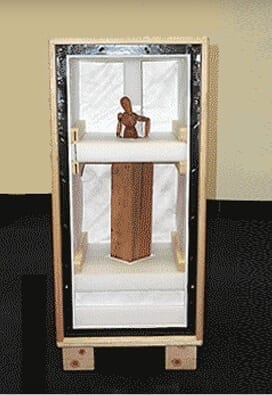 Some Items Need a Little Extra Protection
Because Some Things Are Irreplaceable
When moving, especially long distance or internationally, certain items require extra protection to ensure they arrive at their destination in good working order without damage. White Glove Moving and Storage offers custom on-site crating built by our offsite master carpenter in our state-of-the-art wood shop facility. We offer many customized options to fit your articles' needs. 
Our qualified estimators take measurements and our in-house carpenter designs and builds a crate to suit the items' exact needs. Get in touch with us for moving gym equipment, home and office, arts, antiques, and more.
White-glove movers in NYC go above and beyond to ensure the safe transfer of your belongings. Whether fine art, an antique piece of furniture, a family heirloom, or anything else from our art moving company you can request additional protection, our carpenters can craft custom crates to keep your items protected.
Custom Moving Crates
Common items that require crates include
Grandfather/grandmother clocks
Pool Tables/Game Machines
Customer-centric services
Browse our other services
Get your free moving estimate
Request a quote
Call 1-800-340-1911
"*" indicates required fields