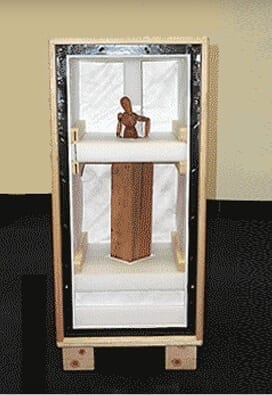 Equipped for all types of Antiques and/or Fine Art
Trained and Experienced Movers
Whether you are moving your Great Grandmother's antique china cabinet or your collection of fine art, the most important thing to look for in fine art movers is that the company you choose will make sure your items arrive in the exact same condition as when they were picked up.  White Glove Moving can tailor-fit a move plan to your exact specifications to ensure your valuables are always taken care of.
White Glove's antique movers go through an exhaustive training process to make sure we send you only top-notch experienced movers.  The movers are all uniformed, skilled, friendly, and come equipped with the most up to date equipment and technology in the industry.
White Glove has been providing White Glove Services for over 25 years and has become the top choice of many auction houses and antique stores in the country.  With our well maintained fleet of moving trucks, own trained employees, and experience moving antiques and fine art, White Glove can provide you with a cost-effective solution for all of your antique and fine art moving needs. If you're located in New Jersey, White Glove Moving's Elite Moving and Storage NJ is a great choice for your antique and fine art moving needs.
Customer-centric services
Browse our other services
Get your free moving estimate
Request a quote
Call 1-877-825-1596
"*" indicates required fields