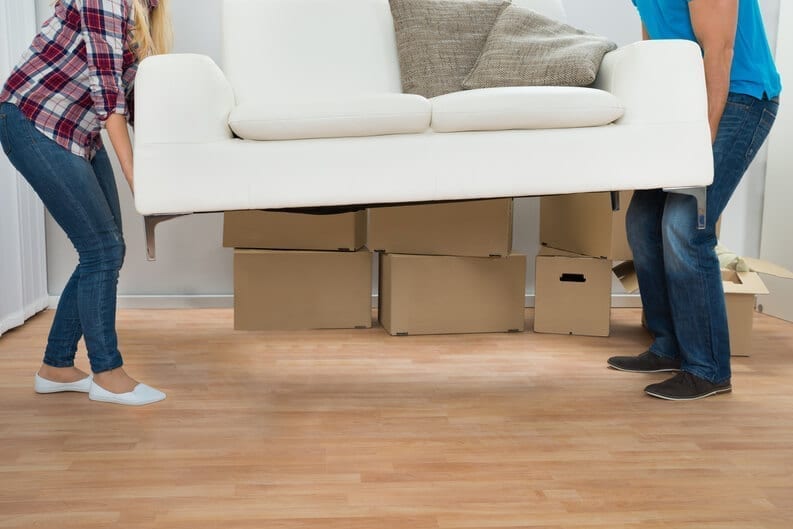 Moving furniture can be quite a hassle considering the average American
will move 11.4 times within their lifetime
. It was a great idea to get your buddy with a truck to help, right? If they happen to show up that is! Now you're stuck hefting the furniture and it's bound to get damaged along the way.
What are some unfortunates of a move?:
Bad timing such as an extreme winter or hellacious summer
Dings, scratches, and breakage of your items
Bumps and bruises and serious injury
Then you have other problems such as:
Traffic problems and vehicle breakdowns
Improper organization and packing
Property theft or damage during the transit
Troubles arise when moving furniture due to a lack of safety precautions. These aren't hard to handle if you're willing to learn and practice safe form. Let's take a look into different ways to stay safe during a move.
Moving Furniture: Eight of the Best Safety Tips
There's a huge difference between
hiring a moving company versus going the DIY route
but one thing for certain is the absolute need for safety.
Break it down
Break down big items to reduce weight and trouble:
Clear and remove the drawers from dressers
Remove the cushions from couches
Disassemble bookshelves, tables, and bedframes
It adds to the work but makes these items easier to move. Make sure to keep the parts organized and together!
Clear a path
Moving becomes chaotic when there are items in the way. It leads to frustration, an accident waiting to happen due to tripping, or damaging the furniture. Common-sense is the key component. An extra hour clearing the paths will increase safety and reduce the troubles of moving furniture.
This would include:
Assessing the pathways when moving the bigger items
Removing obstacles such as boxes and small items
Checking the stability of walkways and stairs
Removing the doors
Wear comfortable clothing
Catching a piece of clothing or slipping in your shoes is guaranteed to cause injury if you're not careful. It's not a good choice to move in your everyday attire. Get loose with the clothing. Avoid baggy clothes but do wear an outfit that is flexible. These wears will get dirty so choose something you can live without. Wear close-toe shoes to avoid feet injury from drops. A pair of gloves will help.
Use the right equipment
The right equipment makes all the difference. It can be the difference between making the move an ease and injuring yourself.
The essential items include:
Dolly – Perfect for heavy and odd-shaped furniture
Shoulder Dolly – Ideal for two individuals moving items like a couch
Lifting Straps – For the heaviest of items like a safe or stone fixtures
Slides – A good way to slip the furniture across the floor without scratching
These items are available at moving rental locations or found at big-box home improvement retailers.
Proper form/carrying techniques
Weight is the issue. It's the reason you're likely to injure yourself. This is avoided through proper form and techniques.
Always lift with your legs
Carry tall items high and low
Slide furniture whenever possible
Hook couches and chairs around corners
Don't go solo
Don't be the "moving hero". The one that takes it upon themselves to manhandle the heavy items through sheer will & brawn. Use your skills together with the appropriate moving equipment. Use help for the heavier items such as couches, refrigerators, tables, mattresses, and the like. Take your time to avoid over-exertion. It's better to go at it slow and do it right. Rather than to hurt yourself from trying to do it all.
Organize everything
From the individual items to
using a printable guide to pack and move
.
Try doing this:
Purchase sturdy boxes from a moving company or home improvement store instead of using the commonly recommend liquor store boxes
Pre-organize items based on their location and importance which allows you to "zone" areas and pace yourself in the packing
Do not overload boxes — keep them loose and at a weight you're able to carry comfortably in and out of the locations
Set valuable items (and documents) aside to avoid crushing or place them separately in your personal vehicle
Use the lead-up date to create a moving checklist. Work through the list on the day of to streamline the process.
Drive safe
The moving truck can be quite a lot to handle. The conditions on the road will be a likely challenge, too.
Keep your distance due to the heavy weight of the truck and contents
Slow your pace when driving through an area with bad weather
Take wide turns and be willing to wait for better merging conditions
Rest when you need
They don't teach you driving a large truck too often so take your time and be doubly cautious of your surroundings. These tips will cover the basics of moving furniture. There's another thing…
Extra Tips for Long-Distance Moving
Moving long distances or
outside the United States
bring about more needs for safety and concern.
Create an emergency contact list and share it with family and friends
Carry a small amount of cash in case you have access to your cards
Perform an inspection and maintenance to the vehicle before the trip
Understand the local culture and customs (this includes within the US)
Make use of technology for GPS, translations, and fun
Stay hydrated and stop the moment you begin to feel tired
Get to know your new area through local meetups and events
Protect your privacy, be careful who you talk to, and keep your wallet safe
Add these to the prior list and you'll be set!
Whether It's Across the Street or the World…
It's wise to take precaution to protect yourself and your items. Moving furniture can pose a risk situation. The last thing you want to deal with is the stress of dealing with an injury and damaged items. If you're dealing with larger or more complex moves, it might be a good idea to consider
heavy machinery moving services
to ensure that everything is handled safely and efficiently. Consider hiring a
moving services company
if you're wary of the troubles.
Ask the right questions
to vet their service and expertise. Your mind and body will thank you. Stay safe out there when you're moving furniture.