If you are searching for Passaic county movers, look no further.
Rated as one of the top moving companies in Clifton
If you are searching for Clifton movers, look no further.  White Glove Moving has been consistently rated as one of the top moving companies in Clifton.  Whether you need movers in Clifton to move from one part of town to another or across the country, White Glove can provide you with a tailor-fitted move plan to ensure all of your moving needs are met.  We offer full-service packing and self-packing options that will fit any budget and our movers are some of the most highly trained and skilled in the industry. Please call us at 1-800-340-1911.  One of our friendly, knowledgeable, and professional sales staff members would be happy to speak with you to further explain just why we should be your Clifton movers.  We offer free in-home estimates that will leave you with an accurate quote for your move. We are licensed to perform intrastate moves within the states of NYC and New Jersey, and can relocate our customers to any location in the continental United States.
Finally – A Clifton NJ Moving Company You Can Trust
Customer service is the foundation of our White Glove Moving & Storage business model. In fact, we're pretty sure it's the reason why we continue to be one of New Jersey's largest and most successful, family-owned moving companies and your best choice for Clifton movers. We aren't into the corporate mentality, which is designed to apply the same model of operation to every situation. We know that while the tenets of local, long distance or commercial moves are similar – every household and business is just a little bit different. When you choose us, you're guaranteed to receive white glove service that is customized to your needs, and we promise to make your upcoming move as simple, straightforward and stress-free as possible. In addition to our local and long distance moving packages, we offer a wide range of services that you can choose from. Whether you use us for one, or use us for all, we look forward to showing you why White Glove Moving & Storage continues to garner such high ratings from our satisfied customer base. Contact the White Glove Moving team and experience professional moving at its finest. We look forward to helping you with your next move to or from Clifton or the surrounding areas. 1-800-340-1911.
Local and Long Distance Moving in Clifton and Beyond
We've seen over and over again how other moving companies treat local and long-distance moves as if they are two different processes; local moving clients get cursory attention while long distance clients get all the special service. We know that it doesn't matter how far you're moving – your furniture, furnishings and possessions need to be padded, wrapped and packed as if they were going the long-distance. This is because all it takes is one sharp corner, an unexpected stop, or unprofessional loading/unloading and a valued possession is just as susceptible to being broken, scratched or damaged during the first five-miles of travel as it is in the last 5000th mile of travel. The White Glove Moving Team makes sure your precious belongings are treated with professional respect and packing expertise, no matter how close or far you're traveling. Some of our professional moving services include: Packing Supplies. It's great to gather a few boxes here and there. However, your most valued and valuable belongings should be packed in professional moving boxes, using packing paper, bubble wrap and/or other professional packing supplies to ensure they are adquately protected. Professional moving boxes are much more stable than your average shipping or grocery store boxes. Plus, we offer customized versions for stemware, china, hanging wardrobes, flat screen TVs, computer and other electronic equipment, and so on. We'll deliver the materials right to your door, and we make sure you have just enough and not too much so you aren't scrambling the closer it gets to moving day. Packing Services. Don't have time or energy to pack up your household? That's no problem. White Glove Moving & Storage's packing team offers several different so you can select the one that works best. For example, our Bronze Packing Package includes the packing of all furniture, mattresses, and wardrobe boxes, while the Platinum Package means the entire contents of your home are packed for you, without you lifting a single finger. We'll provide firm estimates for each packing tier after the in-home consultation. Packing of Art, Antiques and Fine Furniture. If you have art, antiques or fine furniture, we recommend taking advantage of our special packing service for these items. These specialty items should be treated with a different level of attention and protection from packing to loading, and then unloading and placement in their new home. In some cases, we may even recommend shipping the items to your new location, in which case we'll be happy to take care of that for you. We can also discuss moving your extra cars, boats, motorcycles and other toys or mechanical equipment. Contact our office to learn more about our professional moving services. All of our services are priced on a per-customer basis, and our prices are firm so your final bill will never contain any hidden or surprise charges. Give us a call at 1-800-430-1911 to schedule your onsite moving estimate.
Commercial Moving For Your Office, Warehouse or Corporation
Relocating a business adds another layer of complexity to a move. In addition to the general moving stressors, company owners are understandably worried about downtime and potential loss of business. Our commercial moving team has been at this for more than a decade and we we've perfected the art and science of commercial and corporate moves. From the first consultation, we'll begin planning a meticulous timeline that covers everything that needs to be done between now and moving day. Your employee stations will be organized, packed and clearly labeled so it's easy to set them back up in your new location. We will also work with your IT team to carefully deconstruct the company network and pack the entirety of your computer and other high-tech equipment in custom boxes and/or customized storage crates so everything can be reassembled in a snap when it's unloaded. Our goal is to keep you online and in business for as long as physically possible, and we are happy to work all night long and over weekends to ensure you're up and running again Monday morning. Give us a call at 1-800-430-1911 or contact us online to begin discussing your needs. We'll send an estimator out and get started on a moving plan that will bring your stress level back to a mid-line.
White Glove Moving & Storage is Different From the Rest
There is no doubt that White Glove Moving & Storage differs from our competitors, and these differences help us to stand out from the rest. We're Green. We place a large focus on eco-friendly moving practices because we care about our planet and its resources. Our trucks never idle while being loaded or unloaded, which saves thousands of gallons of fuel each year. We prioritize packing and shipping materials made from recycled products and our entire team of moving estimators drive hybrid vehicles to further minimize fossil-fuel consumption. These are just a few examples of how we build eco-friendly practices into our business wherever we can. Our Prices are Firm. One of the largest complaints out there from other moving companies' dissatisfied clients is that their final moving bill was notably more than their original estimate. This is never the case for White Glove Moving clients. Our estimators are experienced and they are good at what they do. They pay close attention to the contents in your home and price your moving package(s) accordingly. We provide a clear, detailed and itemized estimate with a firm price. This price is carried forward to the final bill so you'll never encounter any surprises or hidden fees at the end. We Reward Loyalty. Word-of-Mouth referrals are the very best kind because they show us we're doing our job well. In order to say thank you to the clients who referred us to a future clients, we have a customer reward program. Every time you refer White Glove Moving & Storage to friends, family or colleagues – we'll celebrate the end of their move by giving you an AmEx gift card. Contact White Glove Moving & Storage and you'll know why we continue to be New Jersey's favorite moving company. We look forward to showing you what a stress-free move really looks like. You'll never pack and move your own home again!
What Our NJ Customers Are Saying
Our goal is to always provide top-quality service at fair prices that make your moving process as stress-free as possible. Check out what some of our amazing clients said about their experience.
View More Reviews
Take the stress out of moving with our
NJ Moving Tips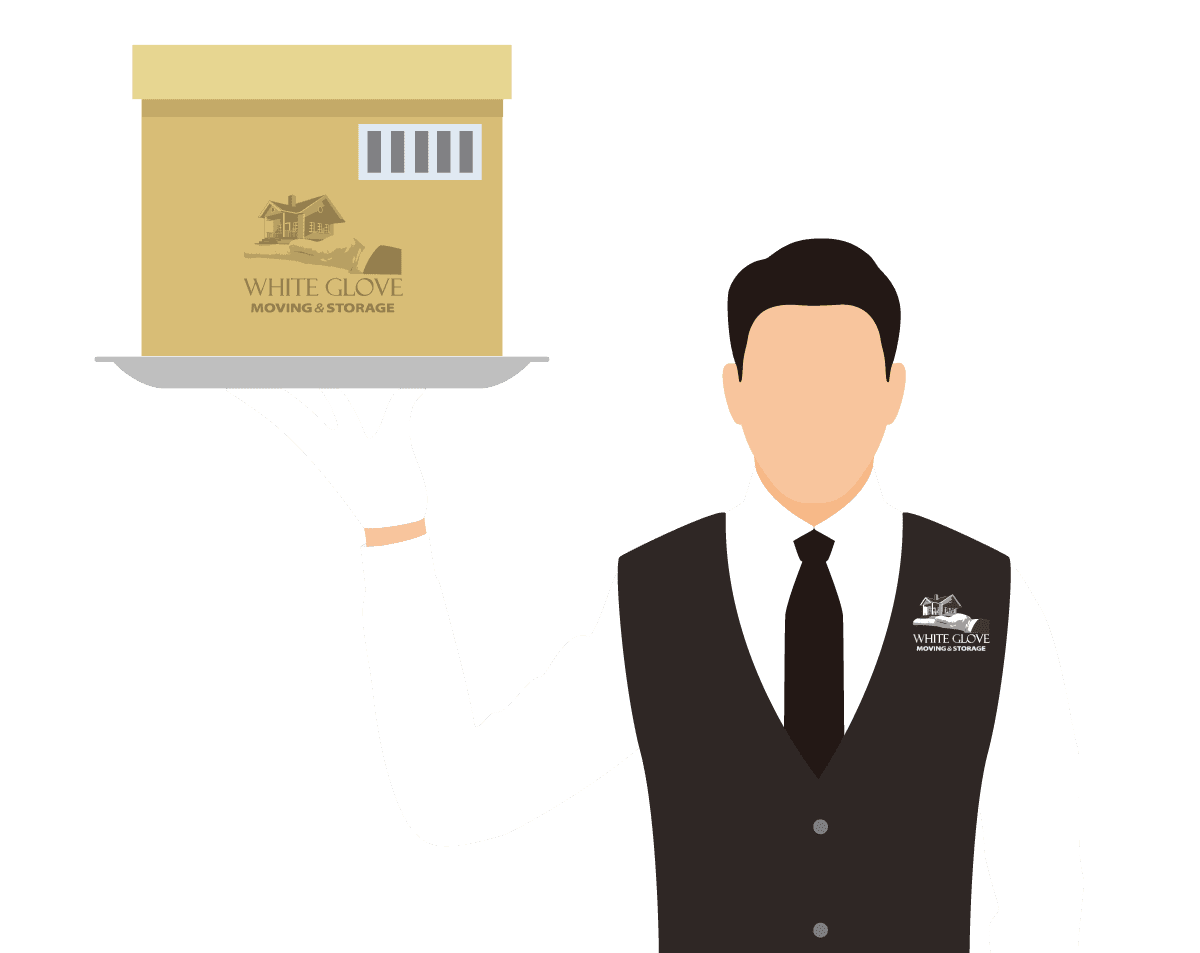 Make your NJ move worry-free
Serving 12 NJ Regions
We have been helping families and business owners move into and out of locations all over New Jersey since 1988. We know these neighborhoods like we know how to stack moving boxes.
Get your free moving estimate
Request a quote
Call 1-877-825-1596